The INS AND OUTS OF VAPOUR BLASTING
Our Wet Blaster or sometimes known as Vapour Blasting, Liquid Honing, Vapour Honing, Dustless Blasting or Slurry Blasting.
This machine is a gentle giant and great fun to use! The machine uses a slurry mix of fine glass or white ally oxide combined with water, heat and compressed air all at once to gently but powerfully clean polish and hone parts. The finish is amazing and we use it daily to key parts for perfect preparation far better than you could ever do by hand. It can also be used to clean & polish parts to a bright finish.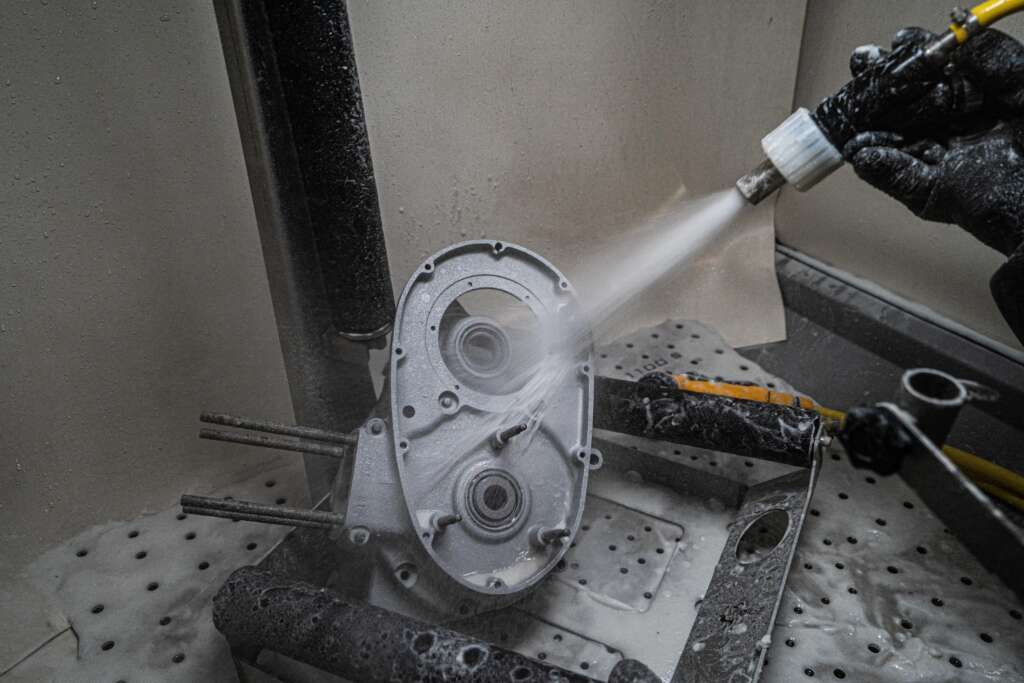 The main notable difference between dry blasting and vapor blasting is In dry blasting the abrasive impacts at an angle, leaving a deep anchor profile.
In wet blasting the water cushions the impact, meaning the surface profile is dispersed more evenly, in a feathered pattern. This allows for a finer blasting process.
Traditional dry blasting can cause frictional heat to the blasted surface. For softer metals this can cause unwanted warping. Wet blasting helps cool the frictional heat from abrasive blasting.
Vapour blasting is a natural choice for cleaning grease, rust, factory coatings, or other contaminants from old auto or motorcycle parts.
The cleaning and stripping process goes quickly with wet blasting, and the finish is much softer. Aluminium, chrome, or steel surfaces have a satin-like finish at the end of the process. There are certain jobs where traditional sandblasting is too destructive to the substrate to be practical. Because you wet blast with a lower PSI, and with softer media, there are times where that is more desirable. These include historical or antique restoration parts or carbs and engine parts for example.