Alloy Wheel Refurbishment
Alloy wheel repair with 12 month warranties…
We repair wheels in all conditions – from chipped / scuffed alloy wheels, to heavily damaged or bent alloys, we can restore your wheels back to their original "Factory Finish".  We also re-style wheels, from a simple colour change to powder coating. Whatever your needs, get in touch for a quote.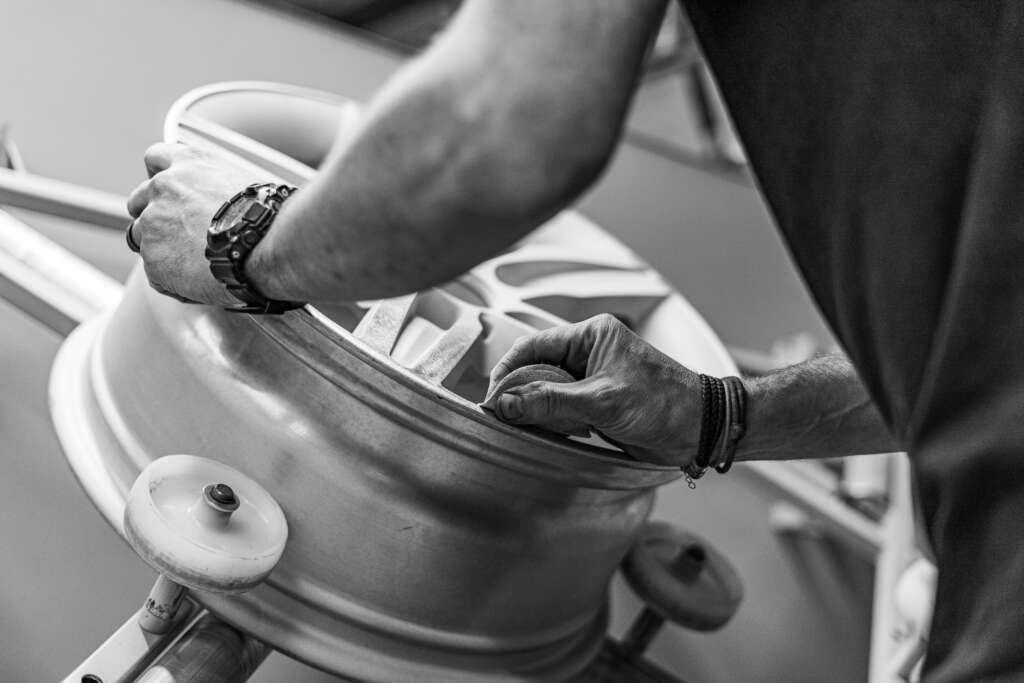 OUR WHEEL
REFURB PROCESS.
We remove the wheel(s) safely from your vehicle. If the wheel is corroded or the job is a full refurb then it will be chemically stripped. The valve is removed, the tyre is removed. The damage is repaired using a large variety of techniques, whichever is most appropriate to the damage. If any flat spots or circumference damage is visible then this can be repaired separately using our wheel straightening machine (and customer informed if not already aware).
We require your car for 1 full day to refurbish alloys. You can book online live now with our booking page, then drop the car off before 9am on the day your booked in (we open at 8am)
On the day we strip the wheels off your car and axel stand your car safely in our carpark.
We then remove the tyres from the wheel plus any badges weights valves etc.
Your wheels are then checked for buckles and you will be advised if any wheel straightening is required.
They then go onto trolleys and into the chemical stripping room where we chemically strip the wheels.
Next they are transported back to the prep department where the wheels are dried checked prepped repaired, welded if required and blasted in our fancy new cabinet blast, all damage accounted for then into the ovens for degassing.
The back of all the wheels hubs are always masked in our process.
Next the powder coatings is applied this process can take many layers and finishes depending on what the customer has chosen wheels are always lacquered.
Finally, all wheels are rebuilt with new valves and rebalancing is always included using our wheel balancer that works on SONAR! and refitted to the car ready for collection end of the day around 4.30pm we close at 5.30pm we have sofa and a coffee machine if you need to wait for a short while whilst we finish then payment via cash or card upon inspection of the work.
Your receipt includes a 12 month warranty on all of our work If your wheel(s) cannot be repaired for any reason there is no charge
For more information please contact us to discuss your requirements.
YOUR WHEELS DESERVE THE BEST,
GIVE THEM THE RAW TREATMENT